HALO will perform for more than 75,000 festival-goers!
(Photo: HALO)
On Monday 21 March 2022, the top 5 student DJs from higher education institutions in The Hague competed against each other in the Paardcafé. The prize? Performing at the three biggest festivals in The Hague: mainstage on the Sena Performers Stage during the Hague Liberation Festival, a place in the line-up of The Hague Outdoor Festival and the perfect chance for a breakthrough in the music circuit of The Hague.
The finalists
WEZZ (Florian Wessiepe – International Creative Business at Inholland University of Applied Sciences)
​"I am Florian Wessiepe. Originally born in Germany, WEZZ performs in clubs and at festivals in Germany and the Netherlands. At the age of 23, I organized my first party where music lovers of electronic dance music came together. WEZZ has created an online community of over 5.000 DJs on YouTube who want to learn DJing. With charm and energy, which WEZZ expresses in his sets, he conquers the hearts of his audience."
Jury: Energetic and with a nice fan base. Always exciting to have to start first in the evening. He went in with a straight leg. Hot Cues. Tasty music choice. Knows his music well.
Lais (Lais Champion – International Communication and Management at The Hague University of Applied Sciences)
"My name is Lais Champion. I started mixing in April of 2021, so not that long ago, because I was always curious to try it and I was lucky enough to have a friend who mixes a lot and has very good equipment who taught me. Since then I have been practicing a lot at home on my own but also around friends and sometimes at parties. I really enjoy mixing at parties and I normally mix techno or psytrance tracks because those are my favorite genres. For this contest, I chose to mix more house tracks because I think they can speak to more people and I like to mix those from time to time."
Jury: Not an easy start. Good track choice. Well packed. Some cosmetic flaws. Showed guts by continuing while BPM was not read. Nicely mellow. Good interaction with the audience.
HALO (Henry Johnson – Public Administration Economics and Government at Leiden University Campus The Hague)
"My name is Henry but I go by my stage name HALO. DJing is everything to me and has been my passion since I was 15 (I am now 23). I have lived in The Hague for around five years as a student and I consider Den Haag very much my home! I've been fortunate enough to have experience playing at many student parties around The Hague at venues, as well as in other cities around the Netherlands throughout my time here prior to the pandemic. Coming out of the pandemic, my aim is to make that next step from performing at clubs to performing at festival events to reach a greater audience and go forward with my music ambitions!"
Jury: Technically good DJ. Confident attitude. Fat mashups. Good build in its set. Goes in all directions in a positive way. Tech house to disco and house to rap.
Hixap (Silvano Roberti – Creative Business at Inholland University of Applied Sciences)
"My name is Silvano Roberti, 20 years old. I've been mixing as a hobby since I was 8 years old. In recent years I have taken this more seriously. In the meantime I have provided music for many parties and birthdays. In general I can play any music genre, but I prefer playing club/festival or house music."
Jury: Came in with a hard start. Despite technical problems, he managed to recover. Holds energy well. Original choice of music.
OTM (Sjoerd van den Berge – Sports Science at The Hague University of Applied Sciences)
"My name is Sjoerd van den Berge, DJ OTM. I live in Goes (Zeeland) but I study in The Hague. After having gained some experience in Zeeland, it find it super interesting to take it outside the province. I have experience in different discotheques and cafes. I like to play different kinds of music from moombaton to Tech house and sing-alongs from the 00's 10's to Dutch folk music."
Jury: Difficult music choices but neatly put together. Tasty hits, catches on with the public. Scratching not so successful. Too careful. Innovative with that loosing it transition. Showed he could rock both genres.
And the winner is… HALO!
After a long deliberation, the jury has chosen the top 3:
HALO
OTM
WEZZ
All participants will take a place in the DJ booth of the HI The Hague student area during the Liberation Festival on May 5 at Malieveld in The Hague. HALO will be seen and heard on the Sena Performers Stage of the Liberation Festival and the upcoming edition of The Hague Outdoor Festival. Congratulations!
Read more on the website of the Liberation Festival
---
The jury
DJ Danimal
Bright Nshuti (Green Garden Festival)
Conchitta Bottse (programmer PAARD)
Timo Bosman (The Hague Outdoor)
The contest
All students of higher education institutions in The Hague could participate.
DJs must be students in The Hague and the music must of course be danceable.
You could submit up to and including 25 January 2022.
The top 3 have a chance to win their own podium spot at the following festivals:

Sena stage (main stage) at Liberation Festival (50,000 visitors) May 5, 2022
Green Garden Festival (25,000 visitors) August 13, 2022 > postponed to 2023
The Hague Outdoor (15,000 visitors) August 28, 2022
Participating higher education institutions
Students from these educational institutions can participate in the DJ contest: The Hague University of Applied Sciences, Leiden University Campus The Hague, Inholland University of Applied Sciences The Hague, Royal Conservatoire, Royal Academy of Art, Hotelschool The Hague, Institute of Social Studies.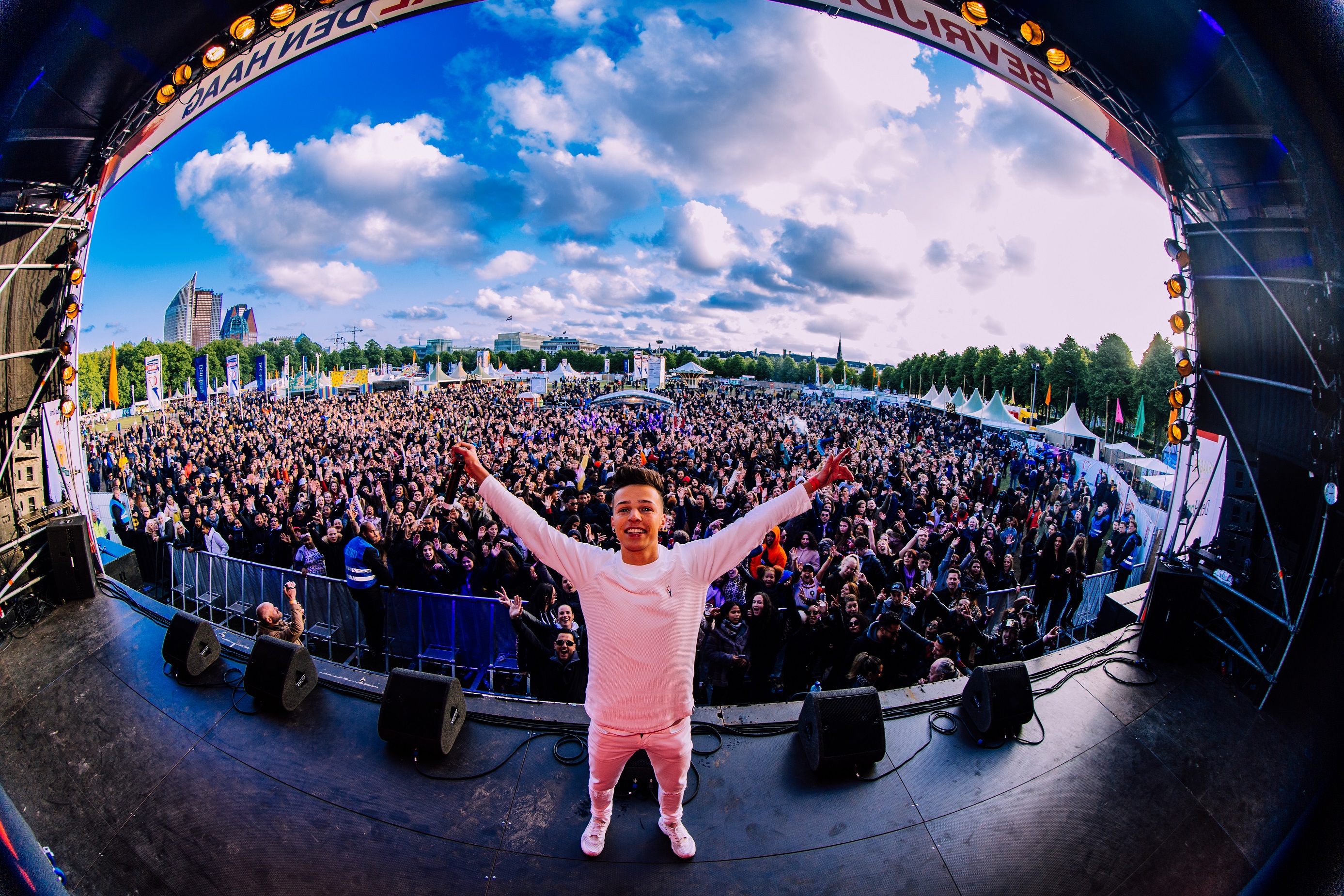 Photo: DJ Danimal